Summary: Five generations of elves who have migrated from another world, Elphemerea, will have to learn to deal with the modern world in Riverblossom Hills and the surrounding area, while remaining true to their heritage and traditions. Meanwhile, I get progressively better at photoshop.
Generation One: Haldir
The story as a whole is rated PG for swearing, some violence, some sexual situations. Individual warnings are largely on the chapters themselves.
[
The Chapters: Generation One
]

Generation One: Haldir
Chapter One: Arrival.
Chapter Two: Off to See the Wizard
Chapter Three: Domestic Bliss
Chapter Four: The Three Musketeers, part 1

Midina's Interlude: If it Makes You Happy

Chapter Five: The Three Musketeers, Part 2
Chapter Six: The Three Musketeers, Part 3
Chapter Seven: Sisterly Love

Eluisa's Interlude: Memoria Part 1, Part 2, Part 3, Part 4,

Chapter Eight: Friends Like These.
Chapter Nine: Bad Company
Chapter Ten: Tremors
Chapter Eleven: Graduand (Part 1), Graduand (Part 2)
Chapter Twelve: Sophomoric
Chapter Thirteen: Fresh Meat*
Chapter Fourteen: Senioritis

Zaliander's Interlude: Hubris

Chapter Fifteen: Cum Laude

* Note: The entirety of Shadows Fall takes place during Fresh Meat, and though it's not germane to the main legacy, I recommend reading it. At least before you read Cum Laude. It will probably update before the next legacy chapter anyway... as I'm doing simblreen again, for 2016. :D
Can't wait for the next chapter? Check out some
official fics for the Elven Heritage Legacy.
(Note: I haven't been putting a lot of these up recently.)
Download the Elves: This will be up and running when I start graduating this batch from college, and sort my geneticized skins. I'm a bit of a perfectionist and I'm currently looking for better versions of the old Enalya pixie skins and for eyes where they've got the corners from Anva's Sclera, but no vast black gaps above when sims open their eyes wide.
Due to Livejournal's new TOU, I'll be moving to dreamwidth. As I fix links and check on posts over there, posts will be disappearing from this account, so don't panic! Instant Messages In a Bottle, The Elven Heritage Legacy, and Poor Unfortunate Souls will still be available to read, just over there and not here. (Probably whining from years ago will be gone for good though.)

Instant Messages In a Bottle is still updating, but you'll have to check dreamwidth or The Pen Pal Project for updates.
Kiana, I cannot give you time.
It would fit in an envelope but I am sure it would seep out through the cracks. I have tried, in many different lives, to give time, to beg and borrow and steal it, for every possible reason. I have tried desperation, generosity, jealousy, selfishness, revenge, grief. But in every life, the doors come, and I could not bargain with fate.
(
I have enclosed something else
Collapse
)
***
As always, this is part of the Pen Pal Project. Xantheanmar's most recent letter from Kiana Moss can be found here, and my masterpost of letters, in chronological order (a very important order to have,) can be found here.
Shoutout to one of many thousands of GIMP tutorials I have consumed over the years, since I now know how to make fog.
I admit that if I were not receiving letters in two different ways, there would be some potential for confusion if they were unsigned.
Since your letter arrived on my pillow along with a scattering of seeds, it was instantly distinguishable. My other correspondence arrives via computer.
The statuette that you received along with the letter and the box was not enclosed by me, so I am forced to conclude that it was either sent by my house, or a gift to you from yours. Your enclosure appears to have been exchanged for the shower of seeds that are currently infesting my bedsheets.
I do not intend to complain – the process of correspondence between our places of being is fascinating.
(
Where I am there are no lawns to mow
Collapse
)
Hello.

I am here.
At least – I think what I did has worked. Perhaps.
The letter appeared when my back was turned, tossed on the floor, in the tangled sunlight of the windows in the greasy beige afternoon.
(
This is not a reflection on the quality of your letter
Collapse
)
Author's Note: This is a response to K
iana's Letter
. These letters are part of the
Pen Pal Project
, so they won't make sense if you don't read both halves! A convenient masterpost of my letters and their recipients' responses
is here.
Hello Seth,

There is not simply a place you can go to, to find a door. There have been lives where I have tried.

Doors usually come at the end of all things, when there is no other way out, or forward, or through.

Sometimes they are an omen. Sometimes they do not come until I have begged and pleaded and clawed the walls until my fingernails are worn down to the nub.

Sometimes there is even further to fall than that.
(
I feel better now.
Collapse
)


Author's Note: This is a response to Seth's Letter. These letters are part of the Pen Pal Project, so they won't make sense if you don't read both halves! A convenient masterpost of my letters and their recipients' responses is here.

Also, warning: the first photo in this post is a flashing gif, so be warned. I can put up an alternate post with the gif at one fifth the speed or something (on the theory that it woudn't trigger anything bad if it were slow) if anyone asks for it, it's no trouble at all. Or I can put it up with the original unanimated picture.
You have to understand, they're not ordinary doors.


There are many doors and drawers and other hinged pieces of wood over holes in walls, like empty eyelids, that exist every day. They stand where they should be, in walls, silent and concealing. Anyone can open them. Anything could be behind them, so that the simple act of walking through could change your life, but walking through one will not dissolve you and reform you anew.
(
When I speak of doors they are not metaphorical.
Collapse
)


This is a reply to Seth's most recent letter to Anya.
If you've missed a letter, head for the masterpost.
Everyone else's letters are available at the Pen Pal Project. Read them.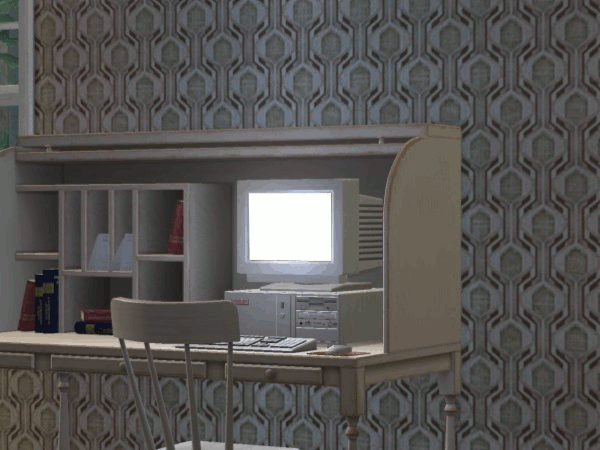 Instant Messages in a Bottle
Anya is being kept by a yellow house with a smug porch. The people on the other side of the computer screen are real. Probably. At least she's determined to proceed with that assumption, because it is good to not be alone… especially since she's not certain what the house wants from her, or what is going on outside the windows.
There aren't any birds here.

Profile

First match: Seth's Profile
Letter One (to Seth): The Tuesday Garden
Seth: Inside the Walls
Letter Two (to Seth): Gaps in the Web
Seth: Caramel Centers
Letter Three (to Seth): Anechoic
Second Match: Kiana Moss
Kiana: A Letter to Anya
Letter Four (to Kiana): Sun Gravy

Kiana: Gathering Flowers
Letter Five (to Kiana): The Persistence of Salami
Kiana: Planting Seeds
Letter Six (to Kiana): Saponification
Hello Seth,
The computer showed me your letter, and I assume this means we have been matched as pen pals. What's it like, living with another person? I mean, I've done it before, in another life, but the past is thinner than the present.




You say that the sun is trying to eat you. I crawled out the window into the Tuesday garden, where the sun was shining brightly, just this morning to see if I could tell if my sun was hungry. I stood for a long time with my eyes closed, every part of me floating up but my feet stuck on the earth, all my weight pinned against the soles, bare and cool in the crying grass, while the rest of me soaked up warmth like a sponge. But the sun did not eat me. My weight returned, and I sat and listened to a tree's heartbeat for a while.
(
Every door in the house was where it should be
Collapse
)

***
Author's note: This second entry in the Pen Pal Project is a direct response to Seth's profile, which can be found here. Anya's profile is here.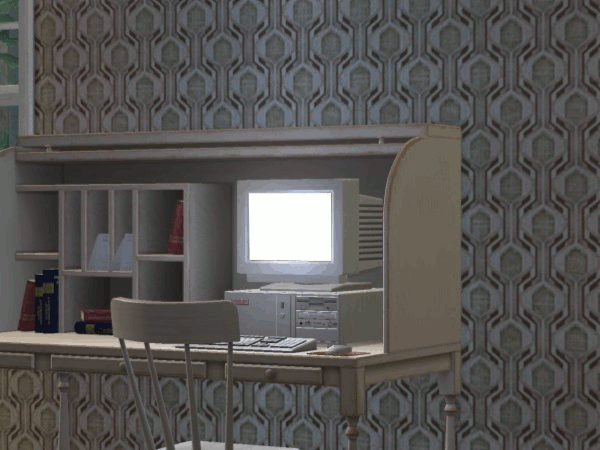 Welcome to the Pen Pal Project! We are dedicated to fostering communication and connectivity between all people, using modern technology to create a sense of community. Please answer the following questions in detail, to ensure that we are best able to match you with your new correspondent or correspondents.

Name: Anya

Select your age bracket: Unsure

Profession: I am being kept by a house with yellow walls and a smug porch. It is a tidy house, and I do not believe it means me harm, even if there are poisonous mushrooms in the cellar. I did not choose to be here, but I came in through the attic door and the crater walls are high around me.




I believe the house is lonely.

(
How many pen pals are you interested in acquiring?
Collapse
)
***

Author's note: In a fit of sanity (blame
medleymisty) I joined the Pen Pal Project! Anya is already partnered up with Seth Morrigan, whose entries you can read here.

If you would like to step through a door and be someone else, or maybe just be kept by a house for a while, stay tuned!